June 19, 2010 Saturday
Kieren turned 10 days old today. His umbilical cord has falled off.
I also bought a new double stroller today. It is a Graco Quattro Tour 2 Duo, in French Roast. Very nice stroller actually, lots of rave and reviews. I like the fact that the new baby can totally lie flat on the first seat, while Karlina has a five point harness on the front. My little princess seems to wiggle all the time and I am afraid she will fall flat on her face one day. So this lovely stroller will probably keep her safe.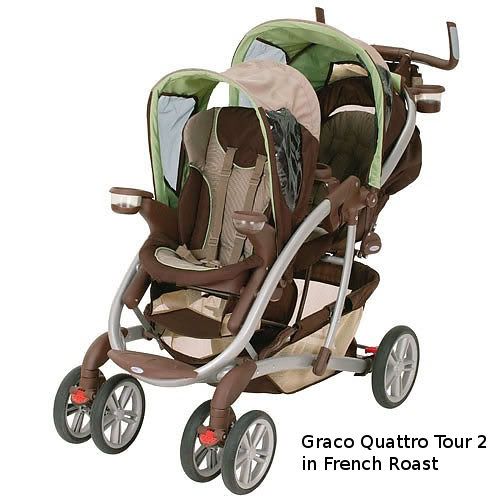 The picture above is from Graco Canada website.
It cost about $299 plus tax at Babies R Us. The front cup holders can also be replace with a car seat adopter, so you can put two car seats when you have twins.
The car seat for this model are Graco's Snugride or Safeseat. The car seats just locked into the cup holders of the first seat.
The storage compartment has this amazing feature where you can pull it down, in order for you to easily grab your stash, even when baby seat is fully reclined.
This strollers has probably the most cupholders that i've known. There is two on the handle bars, two on the baby seat, and two on the toddler seat; that's 6 cup holders in one stroller.
My coffee, my gatorade...LOL. It also has a zippered pouch for shaped for my sunglasses. Pretty Neat!
Geez, this stroller is much for me, not just for the kids.
We also have a visit from the moving company for a qoute. It is 85/hr to move us, with 2 person moving and 3rd is driver/assistant. We were told that it may take us 4 to 5 hours to do the move, and we signed in. Might as well, so one thing is done!
Today, Tessie is hosting a party for Jessica, but it rained on us, so we stayed home.
Rob finally sleep long enough today about 9 hours. Hope his Fathers Day tomorrow will be nice!:)